Schot Vertical Transport: The partner you can build on
Schot Vertical Transport has over 80 years of experience and expertise concerning lifting and/or moving objects in the construction industry. As a result of our fleet of cranes that includes lifting capacities ranging from 40 up to 750 tons and our distribution over more than ten locations in the Netherlands, we are able to provide you with the perfect lifting materials at any time and place.
Employees with passion
Passion for the profession and an active attitude of our employees contribute to the quality and efficiency of your end result. Our drivers start on an independent basis and they are able to advise you on the correct positioning of the crane. This makes the difference. No questions, but solutions.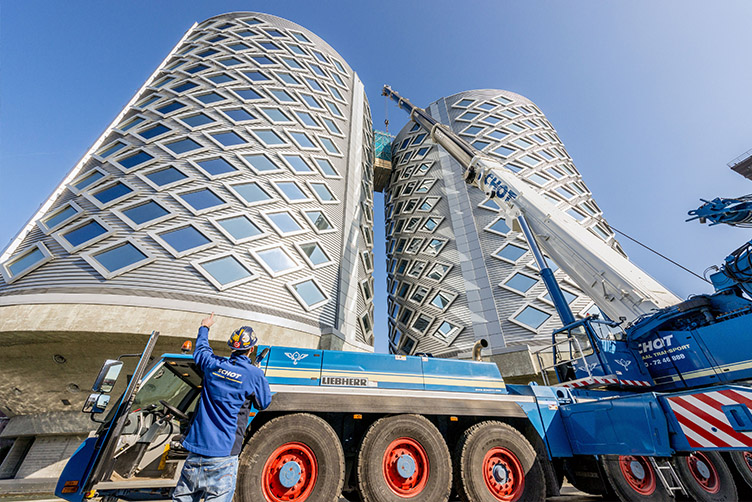 Safety in construction
Schot Vertical Transport has ISO 9001:2008, ISO 14001, VCA**P, C02 Footprint certifications and is VVT accredited. This guarantees our quality and safety. Moreover, our employees are trained in the necessary regulations and specific situations in the construction industry on a regular basis. Besides providing cranes with personnel, we also rent out telescopic cranes, mobile tower cranes and telescopic handlers.
Our services in the construction industry:
• Designing, planning and executing logistical operations;
• Vertical transport with new and/or renovated buildings;
• Lifting prefab constructions;
• Logistical guidance;
• Traffic controllers;
• Engineering;
• Lifting and safety plans.
More information?
Being a good partner means being stronger together. We aim to reach the top with you. Curious about our way of working? Feel free to contact us +31 088 – 542 40 00 or info@schotvt.com.